What's it like to work at FBC?
Well, we're passionate about brewing and equally as passionate about living. We're a fun-loving bunch of people who believe in working hard and playing harder. We seek employees who share these same values – whether they're into skiing, boarding, biking, running, fishing, camping, surfing, photography, music and more. We're looking for ambitious people who are stoked about the outdoors and who are excited about our brand. To us, it's not just a job, it's a way of life. Here's what we believe in.
Quality
We are dedicated to consistency and quality in all aspects of our business. From our delicious brews, to our customer service principles, to our branded merchandise, we believe in excellence and we're a brand that's easy to get behind.
Family
When you work for Fernie Brewing, you're working for a family-owned business, not a big corporation. You know who you're working for and you aren't just a number. We're a tight-knit group who celebrate each other's birthdays, personal achievements and milestones.
Community
We're dedicated and connected to our community. You'll often find us volunteering at festivals & events, wearing the latest & greatest FBC merch of course! In our Tasting Room, we proudly serve our Sampler Flights supporting our Cheers to Charity Donation Program, where we've donated thousands of dollars back to charitable organizations to our community.
Teamwork
We're a creative & collaborative company that listens to our employee's ideas and encourages innovation. Whether you're working in the brewery or part of our remote Sales Teams, we work together to support each other and our company goals. We don't take ourselves too seriously and we're not afraid to raise a glass together!
Mountain Culture
We love where we live! We sneak out on powder days, ride our bikes to work and hang out at our local Wednesday Night Socials. As our beer label states "Crafted for you by bike-riding, powder-chasing Fernie folk", that's us in a nutshell.
If all of this and working in the Craft Beer Industry fills your growler, check out our current Job Board, below.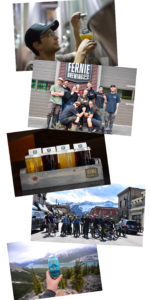 If there are no jobs listed, we're currently fully staffed. However, if you'd like to submit your resume to HR to keep on file, please click the link below – then submit your Resume via our contact form, (using the Submit your Resume option from the drop down menu).
LOCAL DELIVERY DRIVER & WAREHOUSE ASSOCIATE
Posted: April 26, 2021
Permanent, Full-Time.

As our Local Delivery Driver and Warehouse Associate you will be responsible for delivering to our Fernie and Sparwood Accounts as well as performing general warehouse duties in our Distribution Centre. We are looking for a proactive and hands-on individual who can provide exceptional customer service to our local clients.
TASTING ROOM ASSOCIATE
Posted: May 31, 2021
Permanent.

As part of the Tasting Room Team, you'll be the face of Fernie Brewing Co., providing an informative, educational, and fun experience to our craft-beer drinking guests from around the world. This role requires a hands-on individual to serve our craft beer, sell merchandise & packaged beer, and fill growlers in a fast-paced setting. You'll also share the Fernie Brewing Co. story and educate our guests on the history, culture, brewing process, and portfolio of delicious beers brewed here at Fernie Brewing.