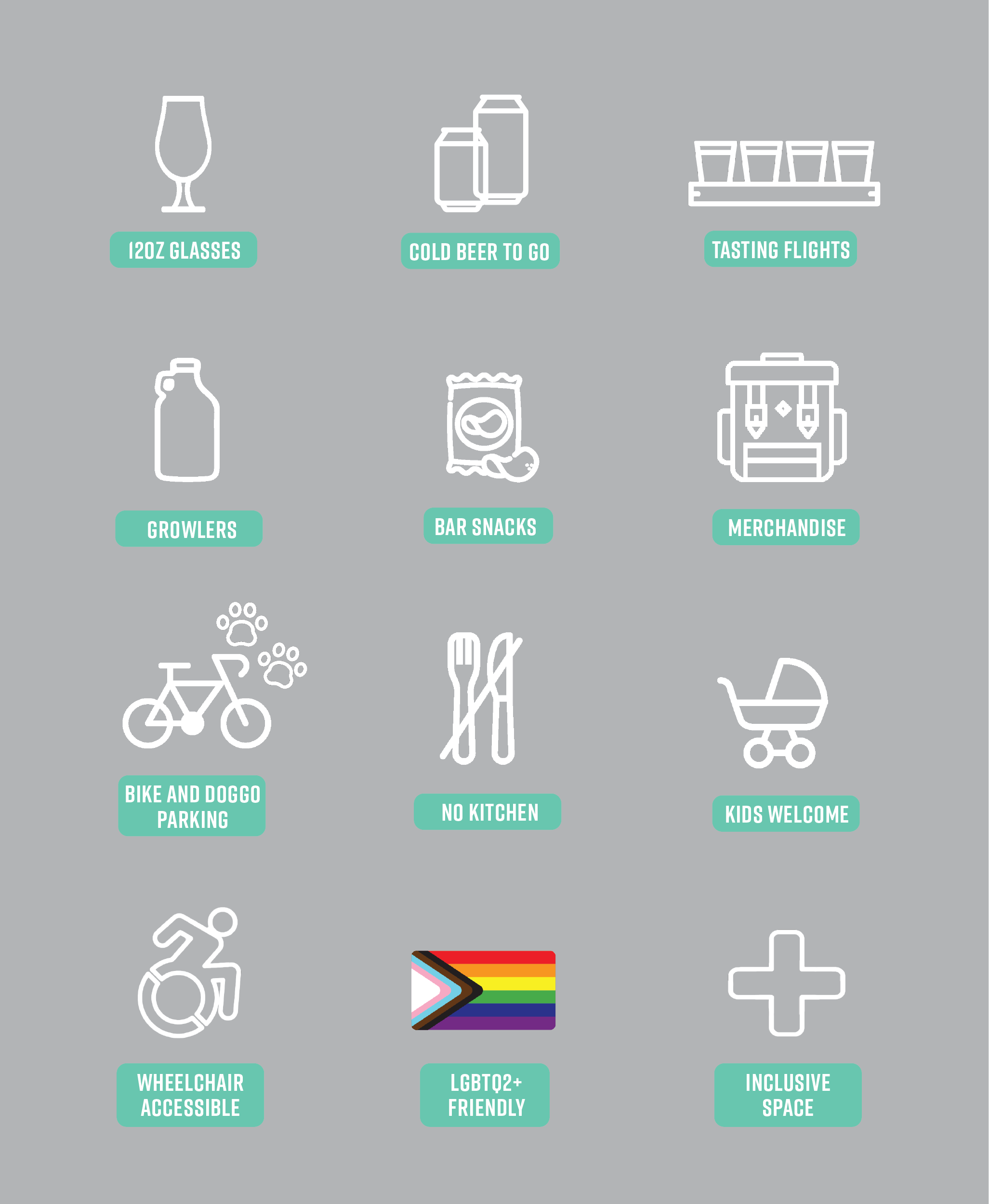 OUR CURRENT HOURS.
We're open 7 days a week. Come rain or shine.
SUNDAY – THURSDAY: 12PM – 7PM
FRIDAY & SATURDAY: 12PM – 9PM
WHEN IS YOUR TASTING ROOM OPEN?
Our hours do change from season to season, head to our Tasting Room page for our current hours.
DO YOU SERVE FOOD?
We don't have a kitchen, but we do have bar snacks, such as jerky and chips.
ARE KIDS ALLOWED?
Yes! We welcome kids of all ages, and have a non-alcoholic offering available.
IS THE TASTING ROOM WHEELCHAIR ACCESSIBLE?
You bet! We have a wheelchair ramp leading up to the Tasting Room and patio, as well as an accessible washroom.
ARE DOGS ALLOWED?
Dogs aren't allowed in our Tasting Room, but during patio season, we have a doggo parking area, open to all good bois.
ARE you filling growlers?
Yes, we are now filling Growlers. We just ask, if you're coming in for a re-fill, that your Growler is clean and stored with the lid off. And yes, we will re-fill Growlers from other Breweries. Check out what's currently on tap, here.
ARE you serving flights?
For sure! We offer Cheers to Charity Sample Flights, with all profits going toward local organizations. Enjoy four 5oz samples of our delicious brews, all while supporting a good cause! Find out more about this great program, here.
CAN I ORDER A KEG?
You sure can. Head to Keg Orders for more information on how to place an order.
DO YOU DO TOURS?
Sorry, but no – there's too much going on in the back, and it's not safely set up for visitors. However, our knowledgeable Tasting Room staff will happily answer any questions you may have.
CAN I RESERVE A TABLE?
No need. While we are currently operating at lower capacity, our Tasting Room is fairly spacious. We are busy after 5PM, especially later in the week and weekends – so if possible, come a little earlier to avoid a wait.
ARE MASKS REQUIRED?
At this time, masks are required to allow entry into the Tasting Room and must continue to be worn unless you are sat at your table.
Here at FBC, we feel it is critical that we all do our part. Not only to protect each other, but also to help keep Fernie businesses open. We have clear COVID-19 guidelines upon entering our Tasting Room, hand sanitizer readily available, and plastic screens at the bar and payment area. Our staff pay close attention to cleaning each table after use, and we ask all visitors to respect their efforts.
CAN I BUY PACKAGED PRODUCT?
Yes you can! We have a wide variety of cold product, fresh from the source.
IS THERE a gluten-free option?
Yes! We always have a Gluten-free option available. Be sure to check our Menu, to see what's currently available.
is the patio currently open?
Yes! Some days it may be a bit chilly, and it could snow any month of the year in Fernie, but the Patio is open for the season.
is indoor seating now open?
Yes! As of May 25th, indoor seating in our Tasting Room is open. Masks are required, unless seated at your table.
Where can I find FBC near me?
Check out our Find FBC page here.
UNANSWERED QUESTIONS?
Contact us here.