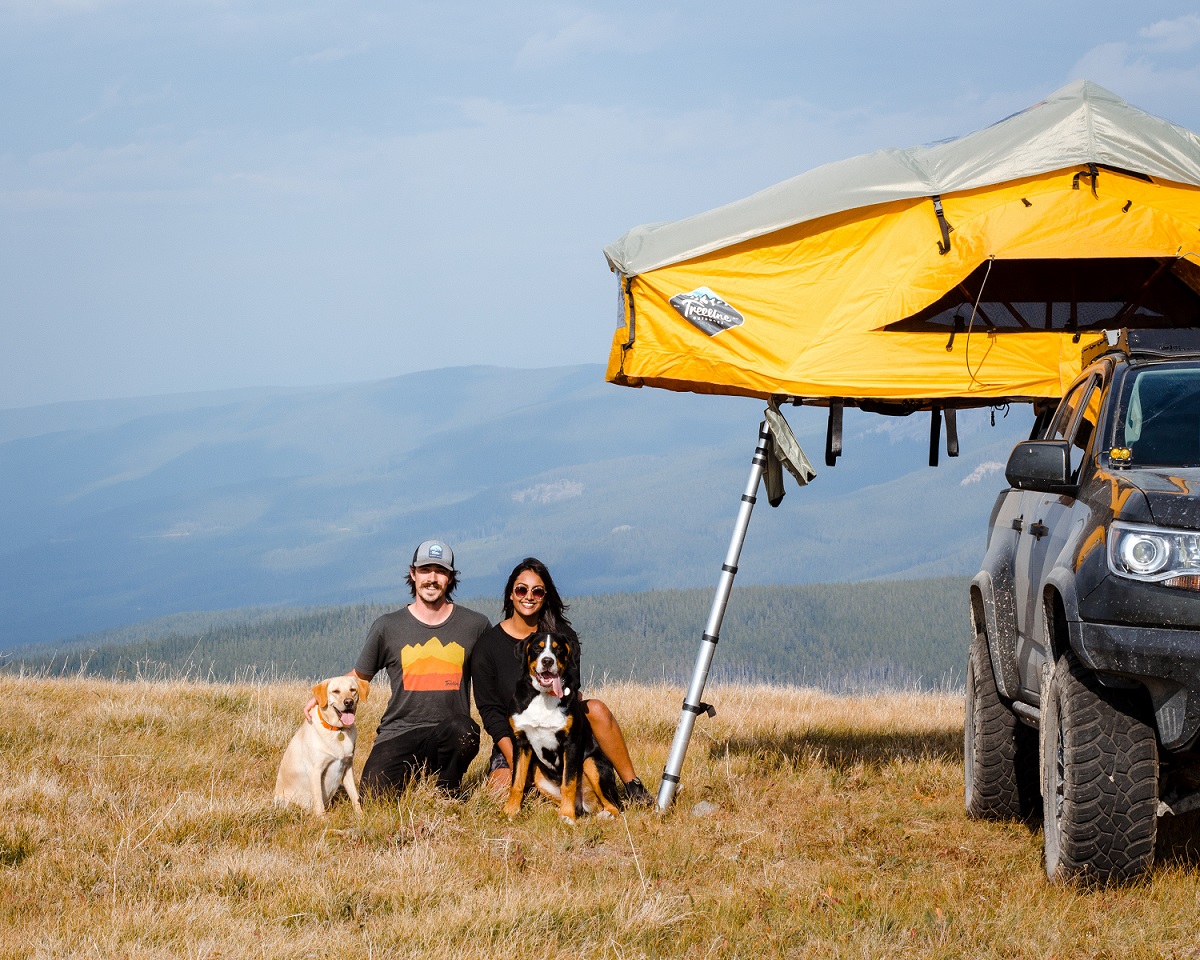 Cranbrook, BC
Bhawna + Tyler Retty
ABOUT THE DUO: Avid weekend warriors, Bhawna + Tyler try to get out every chance they get, most stoked about finding secret spots off the beaten path. Whether it's to hike, camp or fish, these two are happiest when lost in the mountains!
FAVOURITE WAY TO ADVENTURE: By never planning anything. They're the kind of people to get into a vehicle with some snacks, gear (and beer!), then find themselves in Alaska. Always stoked to camp, one of their favourite things to do is outdoor cooking – they want to try and cook a meal outside every week, preferably over the fire!
MEET THE PUPS: Aspen enjoys bird hunting, bum scratches and sticks. She'll judge you for breathing too loud. Bärli is a sensitive soul who thinks he's the size of a hamster. 10/10 will sit on top of you if given the chance. He enjoys making friends with bugs and attacking his sister.
FAVOURITE BEERS: Tyler loves a First Trax Brown Ale, but Bhawna's all about those Contour Cherry Ales – or a good ol' High Side Saison!
This is Bhawna + Tyler's second year on Team FBC. Welcome back, Bhawna + Tyler!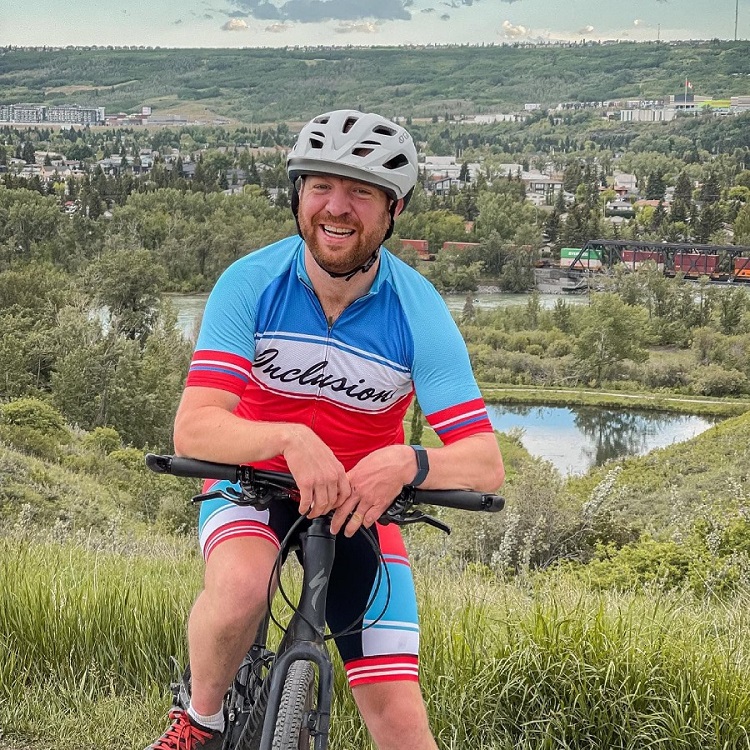 Calgary, AB
Matthew Corkum
ABOUT MATT: Born with spastic cerebral palsy, Matt was told he may never ride a bike. Fast forward a couple decades, and he now bikes between 3,000km and 5,000km a year! When not on the trails, with a PhD in atmospheric science Matt works as a meteorologist in Calgary. The more extreme the snow storm is, the more excited he gets – so naturally winter is his favourite season.
FAVOURITE WAY TO ADVENTURE: In March 2021, with the help of Rocky Mountain Adaptive, he skied for the first time and have never looked back. While still learning, he's a skier for life now, chasing the big pow! But his number one passion is biking. Owning 3 bikes – a fat bike, a mountain bike and a hybrid – the fat bike is by far his favourite!
WHEN HE'S NOT ADVENTURING: Matt loves telling stories and helping people see the Ability in disAbility. Sitting on several boards around inclusion of those with disabilities, he's a board member of Rocky Mountain Adaptive, as well as a community advisory member of the Calgary Adaptive Hub – both organizations that make sure sport and activity are inclusive to those with disabilities. He's also on the Calgary Advisory Committee on Accessibility, helping advise city council on issues related to accessibility like transportation, snow clearing and building infrastructure!
WHAT HE'S LOOKING FORWARD TO THIS YEAR: The high possibility of a 3rd La Nina winter (expert opinion 😉)
FAVOURITE BEER: What the Huck Huckleberry Ale!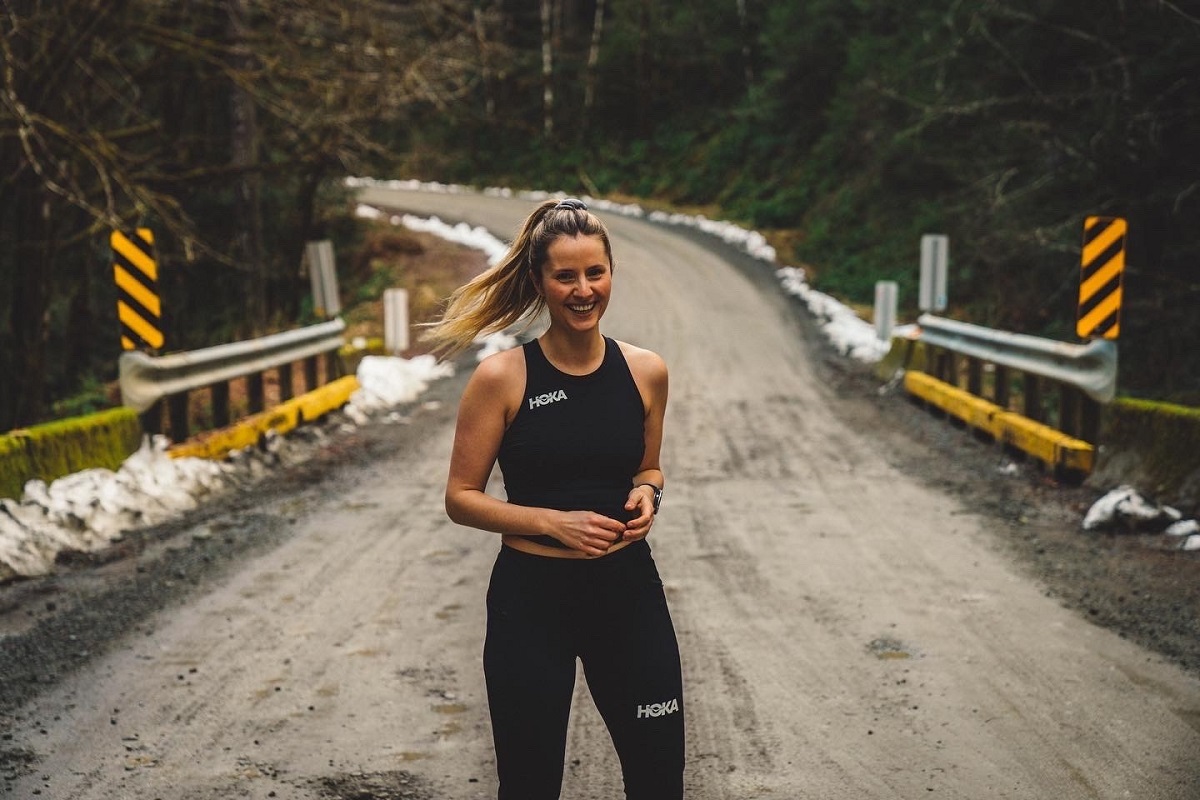 Ladysmith, BC
Morgan Leroy
ABOUT MORGAN: Morgan (but everyone calls her Morgs), was born and raised on Vancouver Island and is still living the island dream 27 years later. According to her, you can do it all over there, so why leave? Ski, surf, ride and run, all in the same day if you want! Working her dream job as a peri operative assistant at the Nanaimo hospital, when she's not working you can find Morgan running, riding, hiking or cooking some yummy healthy recipe.
FAVOURITE WAY TO ADVENTURE: Morgan's main passion is trail running – she's been hooked since her young cross country days, and having mountains so accessible she loves the challenge of those bigger, solo days out. Most drawn to activities or goals that are on the rather challenging side, she ran a 50km before a marathon!
COOLEST THING SHE'S EVER DONE: Run the Cowichan Valley 5 Crown last summer! She planned and executed this route – it had all the peaks in the Cowichan Valley, clocking in at 69km and over 2,500m of elevation, winding its way through trail, gravel and road sections. She even set it up on FKT and made it official – so she holds the FKT for it, and plans on going after it again this summer, but faster!
FAVOURITE BEER: Hit the Deck Hazy IPA, preferably on the tailgate.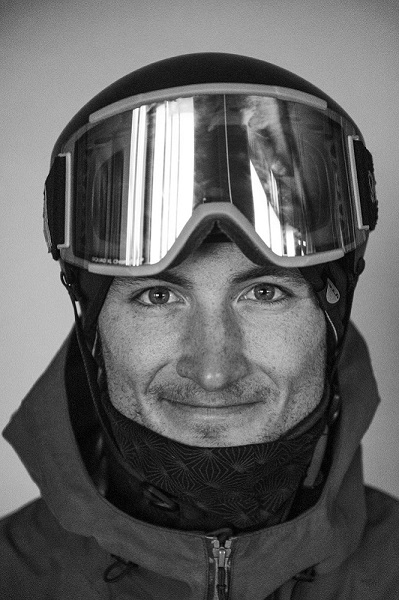 Fernie, BC
Davis Clement
ABOUT DAVIS: Davis competed as a mogul skier for 11 years, 7 of which were spent on the Alberta Mogul Team, competing both nationally and internationally. After being invited onto the Canadian Mogul Team, but having to decline due to an injury, Davis retired from competitive skiing. You can now find him routinely getting after the gnarliest of lines on his skis or bike, surrounded by a crowd of equally adventurous friends. Working as a full-time cabinetmaker, he spends his weekends either getting after another epic adventure, or coaching the local Fernie Freestyle Team, trying his best to corral the next generation of young shredders.
COOLEST THING HE'S EVER DONE: He has no idea what the coolest thing he's done is… probably a cool trick shot to catch an almond in his mouth. But the Aemmer Couloir in Lake Louise was cool too, he says.
FAVOURITE BEER: Headwall Hazy Pale Ale – it skies well, but it tastes better.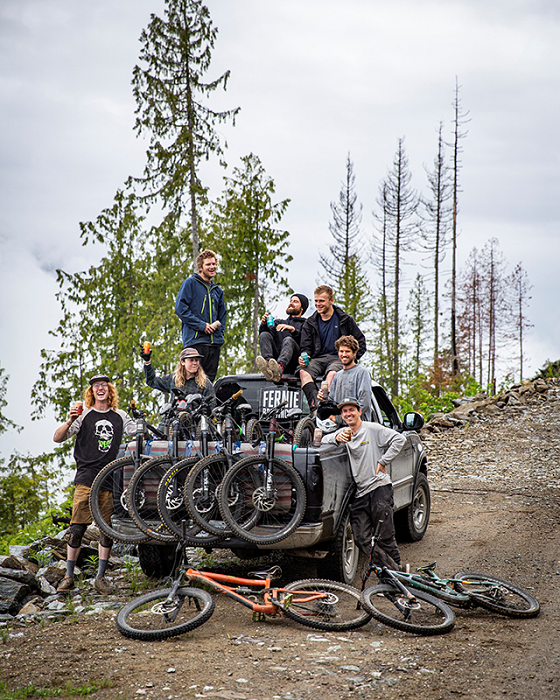 Revelstoke, BC
Stoked on Stout
ABOUT THE CREW: Hailing from Revelstoke, BC, Stoked on Stout is a wackie group of 7 Stout-lovers from around the world. Despite originating from the UK, Australia, New Zealand, and Canada, they all share a deep love for three things: winter sports, biking, and the main one, Stout… hence the name. Plain and simple, they're a group of good pals who love nothing more than cracking a can of Java the Hut, in the most absurd, adventurous places they can find.
THEIR FAVOURITE WAY TO ADVENTURE: 1) Gather the crew. 2) Pick a new location. 3) Pack the essentials (beer). 4) Bring along any poor soul who wants to tag along.
THE #1 BREW IN THEIR HEARTS: Well, it's in the name, Stoked on Stout. Of course it is the delicious Java the Hut Coffee Milk Stout! After every crazy adventure, they sit down at their local spot over pints of stout, and dream up another wild plan for next weekend.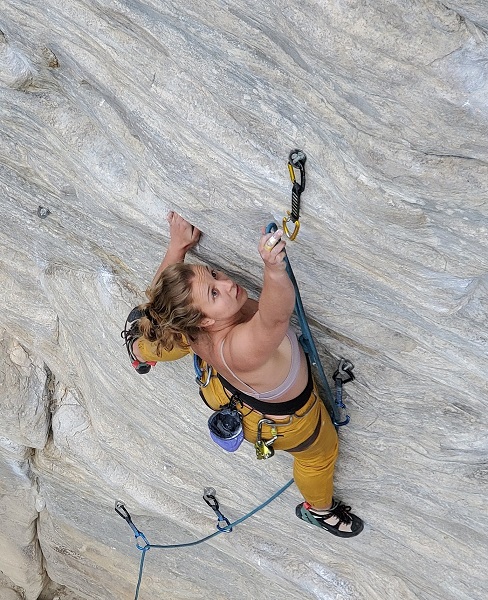 Fernie, BC
Victoria Sowinski
ABOUT VICTORIA: Originally from Salmo, BC, Victoria was introduced to the world of outdoor sports via an outdoor recreation course in high school, where she climbed for the very first time at Skaha Provincial Park. From there, she fed her love of climbing at the University of Lethbridge, where she joined the yearly red rocks trips to Las Vegas. Since then, she's climbed in world-class areas including Joshua tree, Indian Creek, Squamish, and the Bugaboos!
FAVOURITE WAY TO ADVENTURE: While climbing is number one in Victoria's heart, moving to Fernie introduced her to mountain biking – which both scares and thrills her simultaneously. You could call her a bit of a Jack of All Trades, dabbling in everything from skiing to hockey, hiking to kayaking!
FUN FACT: A climber she may be, but Victoria is terrified of falling (can you blame her?). But that doesn't stop her from working hard to find that flow state, whether it's on the rock, in snow, or on a dirt trail!
FAVOURITE BEER: Victoria is a Campout West Coast Pale girl, through and through.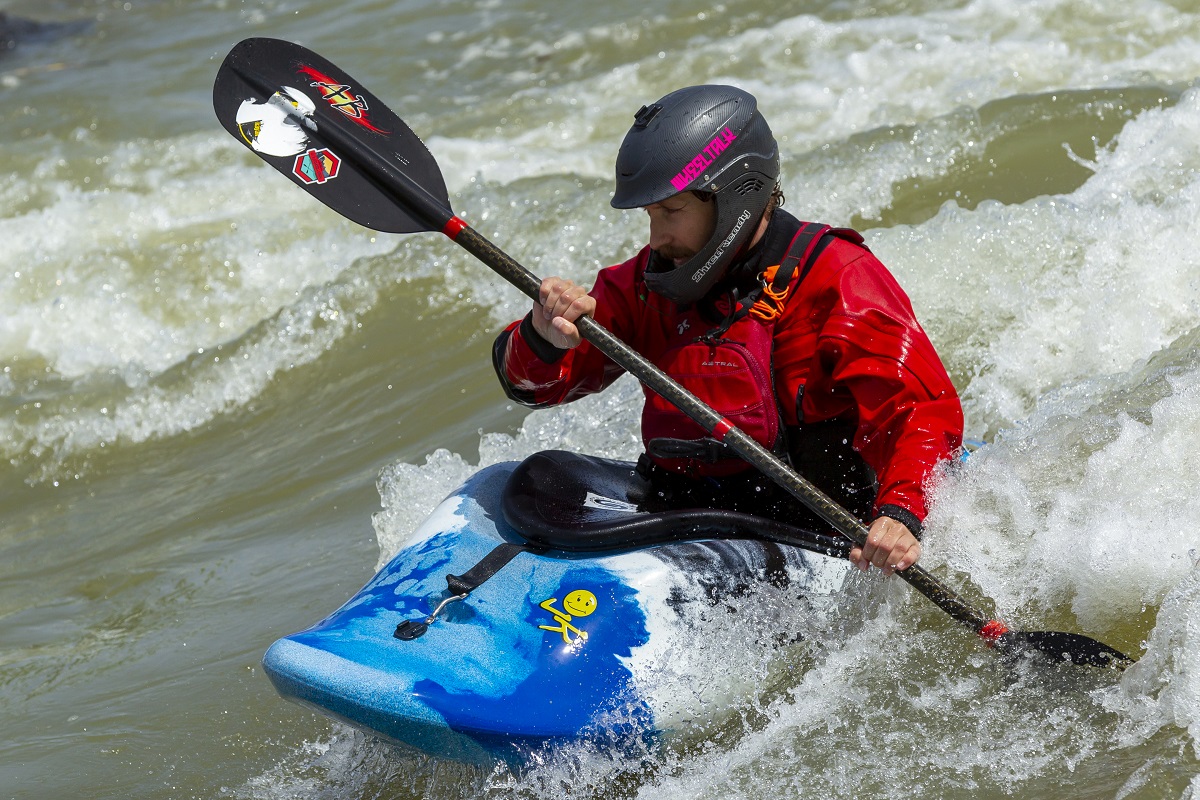 Calgary, AB
Brendan Fowler
ABOUT BRENDAN: An epic whitewater kayaker and backcountry skier, Brendan grew up shredding with his family in the winter, and frolicking in the water, paddling in the summer. Having recently rounded out his sporting season by taking up mountain biking for the shoulder seasons, nothing stops him from spending all day playing in the mountains!
COOLEST THING HE'S EVER DONE: In July 2020, he skied the Roberson Glacier – which required biking in the first few kilometres, then hiking 5km, then finally putting on skis and ascending the glacier, in the middle of the summer!
FAVOURITE BEER: What the Huck Huckleberry Ale, because it matches his skis.
MEET OUR PAST TEAMS
One thing's for sure, we never leave a team behind.
Head to the links below to meet our awesome alumni.